Sacramento Food Bank & Family Services (SFBFS) is an incredibly dynamic organization and the services provided are indispensable to the 150,000 men, women and children assisted every month. Part of my responsibility as SFBFS' Development Associate is to illuminate every aspect of our organization in the community and make the message clear that Sacramento Food Bank & Family Services is combating food insecurity by nourishing body and mind.
My first effort to spread the word was by organizing SFBFS' biannual Hoppy Hour in the Garden. The event provided a unique experience for donors and community members to learn more about what SFBFS does and who we serve while enjoying complimentary food from our wonderful community partner Hoppy Brewing Company. The evening was spent in SFBFS' Oak Park Demonstration Garden and featured a speech from client, turned SFBFS Peer Educator Gricelda Valencia, who described the struggles she experienced after immigrating to Sacramento from Michoacán, Mexico. Through SFBFS, Gricelda took English as a Second Language classes and attended Parent Education courses. Gricelda explained that after her husband was forced to go on disability and lost his job, the free diapers provided by SFBFS were a lifesaver. She now serves as a Peer Educator here at SFBFS working to help others on their journey to self-sufficiency and financial independence.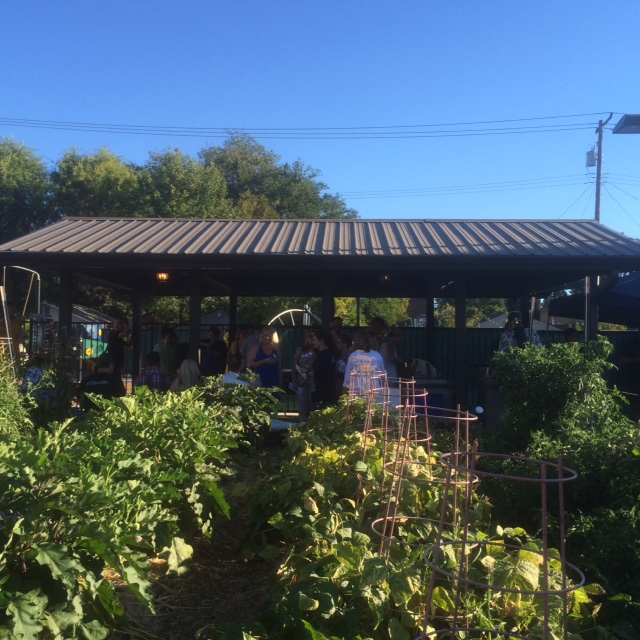 Later, two tours of SFBFS' Education & Technology Center were provided offering attendees the opportunity to literally see the inner workings of SFBFS. The tour included stops at the technology lab, where clients can work on securing a job or attaining their GED, the Intel Computer Clubhouse, a place for teens to go after school and explore their technological creativity and the Parent Education classroom, where expectant parents and caregivers of children ages 0-5 can acquire the skills and resources to meet any parenting challenge.
After the tours finished I had the chance to speak with many of our guests and all of them were awe-struck by the breadth of services SFBFS provides. "I knew about the food bank part but I didn't know SFBFS did all this," was a common sentiment I heard, even from a donor of 15 years!

What made the night so special for me was having the opportunity to share in the excitement and wonder that attendees felt when learning that SFBFS is so much more than a food bank. It was not too long ago that I was also saying "Wow, I didn't know about all of this." I am confident that SFBFS' innovative holistic approach to ending food insecurity in our region will not go unnoticed and as word spreads, we will see the amount of people who rely on our services decrease for good.
Submitted by: Nicole Bigelow, SFBFS Development Associate